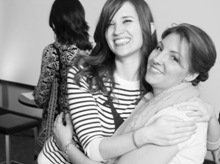 At AMPED, we believe in the healing power of principled chiropractic care. We feel called to be change agents in the world and we want to spread the word to the masses.
Can you believe that only 7%-10% of Americans visit a chiropractor? That means that about 90% are likely relying on pills, surgery or simply toughing it out. People need to know that there is a better way. Together we can change those statistics and improve the health of our nation.
Because we've been blessed with success, we want to give back by helping you succeed. If we all do our part, more Americans can experience the healing powers of chiropractic.
Are you ready to take your practice to the next level? If so, we invite you to leverage the AMPED movement. We have a variety of tools available that will help you:
offer the best chiropractic care to your practice members
develop the best team and keep them focused on solid results
get the word out through proven marketing strategies
Reignite your passion and unleash the healing powers of chiropractic in your community. Here's how AMPED is helping others around the country: http://ampednow.com/testimonials/
Let's get started today: http://ampednow.com/special/