Join an AMPED DC in Their Office for This LIVE AMPED Event and Shortcut Your Way to a Successful Practice
Spend a Day Training With Us. The Cost is only $247 per Person!
Remaining Ticket Availability Varies by Location and Is Extremely Limited So Act Now
9am – 4pm on Saturday, May 6 2017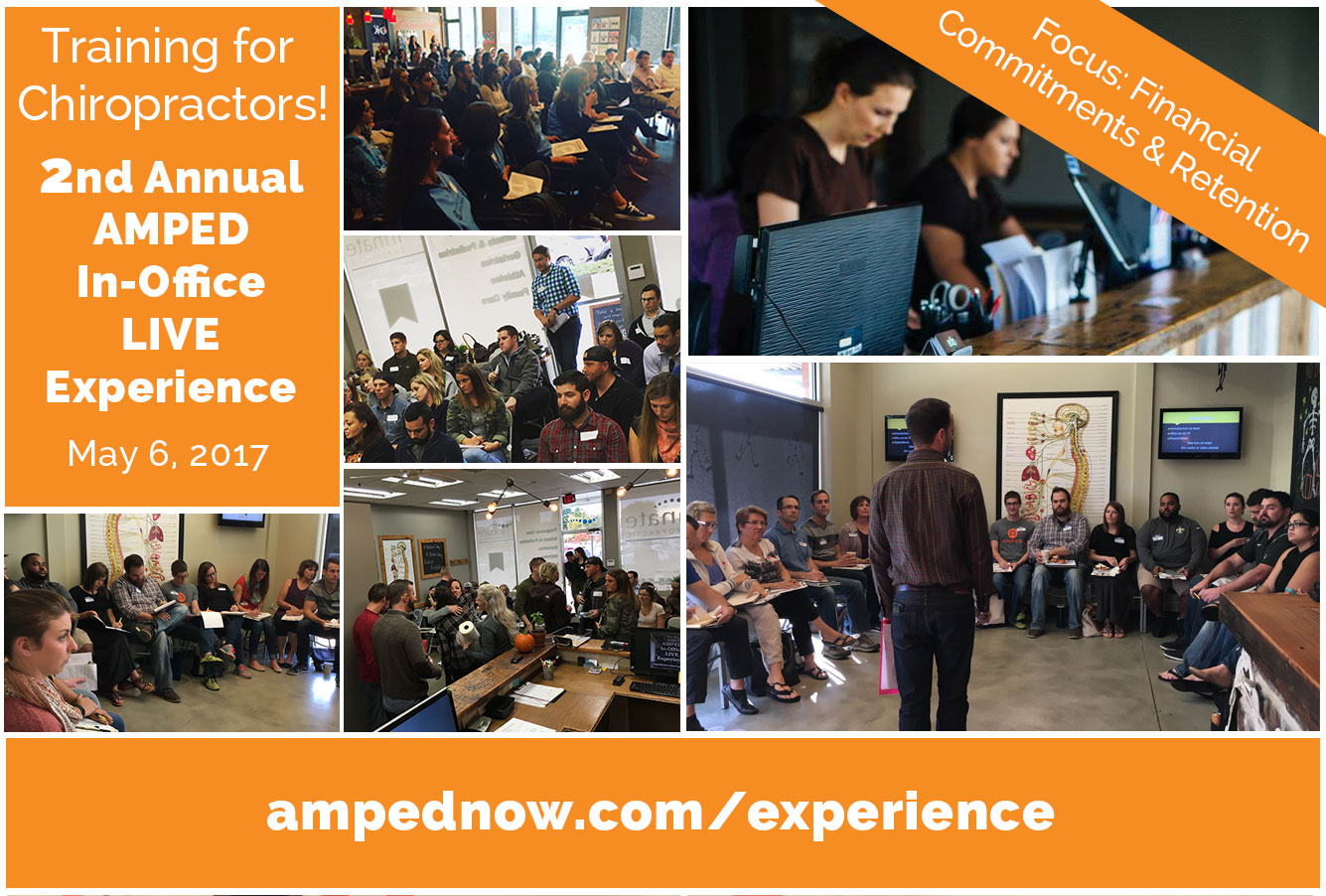 This Special Training Event Will Be Held On Saturday, May 6, 2017 at 9 AMPED DC Office Locations – Choose Your Desired Location Below for More Info
The host DC at each office location is an expert in AMPED principles. He or she will provide you with hands-on guidance and illustrate how they use AMPED best practices in their business. This is a unique "behind-the-scenes" look at what drives their massive success. Don't miss this special event!
Our first In-Office LIVE Experience covered the Day 1 and Day 1 process.  We are taking it a step further with the one on May 6 by talking about critical retention steps and financials in the practice! Learn the most effective and efficient ways to build a practice on referrals for life-long family care with those that truly understand inside-out health.  We are going to cover financial commitments in every area of the practice from Day 1 to completion of corrective care progress report of findings. Whether you are student, team member or veteran DC, the In-Office LIVE Experience will be composed of pure content that can be implemented immediately.
Click here to view the itinerary.
The goal is for attendees to be able to see how a new practice member is processed in a high volume office and what things go on behind the scenes that you wouldn't see from just visiting the office. There will be specifics for doctors and team members as well as a Q&A session. In-depth understanding and actual best practices will be the focus.
It will all be wrapped around excellence in organization and behind-the-scenes processes and systems that create highly successful, relevant and profitable practices.
Click a location for more information.
(with Dr. Jeremy Hess and Dr. Amanda Hess)
(with Dr. Jared Brown and Dr. Samantha Brown)
(with Dr. Cornell Cornish and Dr. Teandra Cornish)
(with Dr. Erik Brower)
(with Dr. Michael Viscarelli)
(with Dr. Clare Stewart and Dr. Sam Stewart)
(with Dr. Rusty Herring)
(with Dr. Tyler Schwanz)
(with Dr. Erik Kowalke)
Here are some of the questions that we've been getting about the event:
Q: Can I bring team members?
A: Yes, for sure. We have entire teams coming! This training will be valuable for all. Your AMPED doc will stress the importance of various team member roles as he or she walks you through their patient flow. The "inside tips" and "best practices" will be revealed as your group visit each station and section of the office.
Q: What is the cost to attend the event?
A: Tickets for the AMPED In-Office LIVE Experience are $247 per person. Tickets can be purchased online at http://ampednow.com/experience
Q: How long is the event?
A: The event is one day (May 6) and starts at 9:00am. There will be a break for lunch and then continue in the afternoon until 4:00pm.
Q: What is the event format? How many people will be at the office?
A: The AMPED In-Office LIVE Experience takes place on the same day in 9 different office locations across the country. Ticket availability at each office varies. Most offices will have around 30-40 attendees. This small group format allows for an intimate setting that encourages sharing and deep knowledge transfer. The AMPED doc at each office will demonstrate how the office processes their clients. You will be shown the AMPED best practices and you can ask all the questions you have. You'll also be able to bond with the other attendees and make valuable networking connections.
Q: Can you provide lodging and dining information?
A: Yes, each office location has a separate webpage that contains a map, recommended hotels, restaurants and contact information. Start with the page at http://ampednow.com/experience and navigate to the office of your choice to learn more.
Q: Can non-AMPED members attend?
A: Yes! The event is open to the entire chiropractic community. All chiropractors, team members, students, and others will benefit from this in-office training. Even if you know nothing about AMPED or any of its members, you will instantly fit right in and get an impactful day of training for your practice! Students are especially encouraged to take this opportunity to see a working chiropractic team in action and learn the best practices behind the action.