Operating a chiropractic practice is no different than operating any other business. Granted, there are several healthcare changes that we healthcare professionals have to deal with, but just like any other business, we have to roll with the punches and adapt to the ever-unpredictable environmental factors.
At AMPED, we believe that the ability to think strategically and apply proven systems in a systematic fashion will not only help you thwart these issues, but predict them and deal with them in such a way that your practice will not only survive, but thrive. We are here to teach you how to do just that.
When you join the AMPED program, you will have access to our virtual classroom or program-specific training area —an online video module training course that was created to focus on three areas:
Chiropractic procedures
The building of your team
The marketing of your practice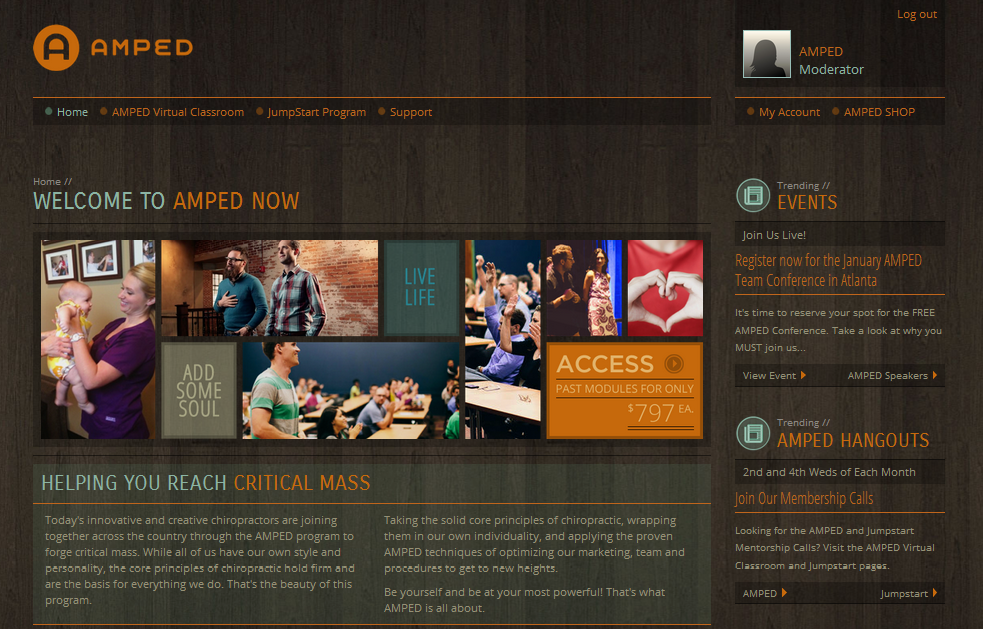 Each video module will contain:
Videos on the topic of the month
Downloadable .pdf forms and reports
Recordings of topic specific telephone conferences or webinars
Other related bonus videos
These video modules are meant to educate you and keep you up-to-date on the latest in Chiropractic news in-between our multiple live events and monthly teleconference calls. Our goal is to provide you with access to all the information you need to succeed, when you need it – these video module-training courses make that possible.
Doctor Memberships Now Available
Join us now. Click to watch an important video.
AMPED Doctor Offer
Student Memberships Available
Are you a Chiropractic student? Check out this special offer for you.
Special Student Offer
JumpStart Program Now Available
For any chiropractic student or recent graduate that wants to have an extraordinary practice.
JumpStart Program Offer
KickStart Program Now Available
This is a course that covers topics of interest specific to chiropractors that are already in practice.
KickStart Program Offer
Associates JumpStart Program Now Available
This program covers topics of interest specific to associate chiropractors.
Associates JumpStart offer