Issue 23 of "Get AMPED", the AMPED Newsletter, is now available!
---
October 1, 2017 Get AMPED – Issue 23

Have You Worked Towards Your Perfect Life Today?
"The best way to predict your future is to create it."
– Attributed to Abraham Lincoln, Peter Drucker, and others
Each new day is another chance to shape our future to match our most intense and meaningful desires and goals. The actions we take today and tomorrow either further our progress towards the life we want, or set us back and make us wait. The choice is up to you. What's it going to be?
---
An Invitation for Students
Docs in practice know how the future of their offices depends on the little things that happen in each moment. But, it's easy for students to lose sight of the big picture when they have to deal with all the distractions that make up student life.
The AMPED Conference helps students keep their eyes on the prize. The Family Conference is especially valuable. Where else can a student see so many leading chiropractors reveal the tips and tricks they use to balance practice and family life?
Students – don't miss the opportunity that the October 6th-8th AMPED Family Conference represents. Take a look at this amazing itinerary we've put together and make the decision to come!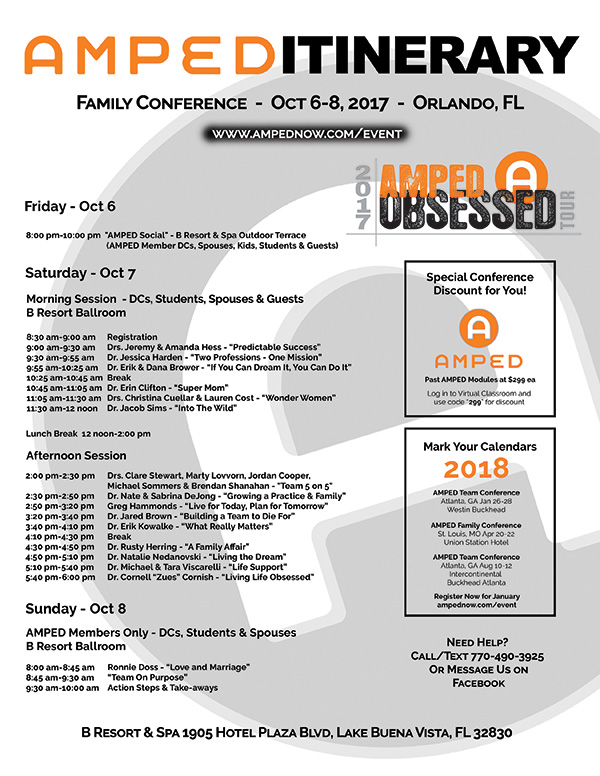 Tickets are 100% free so bring your fellow students with you! Info and registration at http://ampednow.com/event.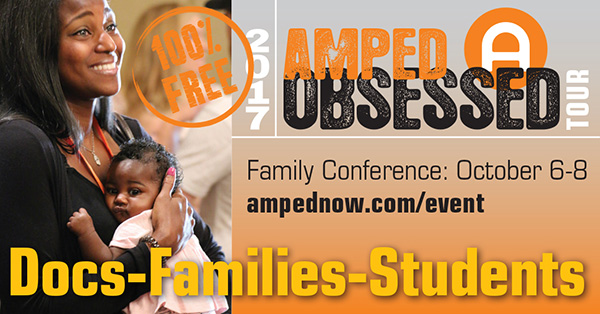 Register for your free tickets at http://ampednow.com/event.
---
A Message from Dr. Tyler Schwanz
Watch this great video form Dr. Tyler. He reflects on his practice journey and urges you to come join us at the Family Conference.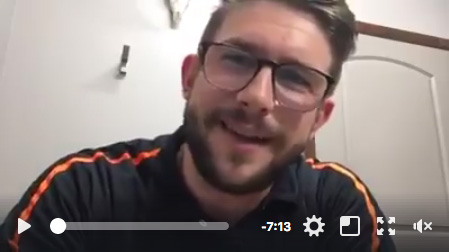 ---
Keeping Chiropractic Drug-Free
And here's a video from Bharon Hoag from OneChiropractic.org. You'll remember him from the stage at our most recent Team Conference. He thanks you for your attention and suggests how you can help keep chiropractic drug-free and on the right track. One Chiropractic has both a doctor and student track, so check it out at http://onechiropractic.org.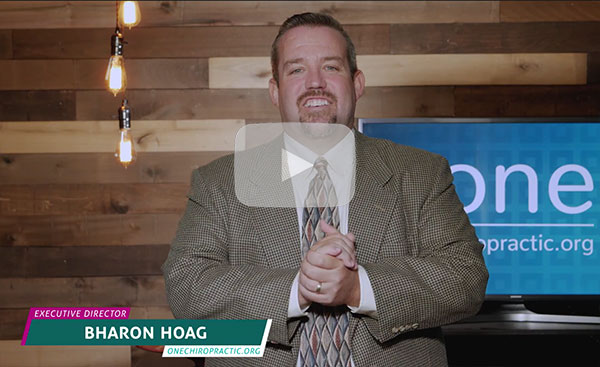 Register for the AMPED Family Conference at http://ampednow.com/event. Bring your family to meet the AMPED Family! Tickets are free but you must register in advance.
---
This Month's Module
Church Events and Pastors' Luncheon – October 2017

Drs. Jeremy and Amanda Hess and Ronnie Doss talk about something they really love – connecting with the communities that form around places of worship. They share their insights and techniques for really connecting with people. Watch this informative module now.
Video 1: Interacting with Churches, Clergy & Pastors
Video 2: Church Staff Luncheons
Video 3: Church Talks
Video 4: Pastor Luncheons
Video 5: Small Church Groups
Plus downloadable documents
And, of course, be sure to watch for the bonus videos that appear mid-month.
Note: This featured module appears in certain AMPED programs. Depending on the program you are enrolled in, your content and the date it will change may differ.
Go to the AMPED Virtual Classroom at http://members.ampednow.com
AMPED Member Focus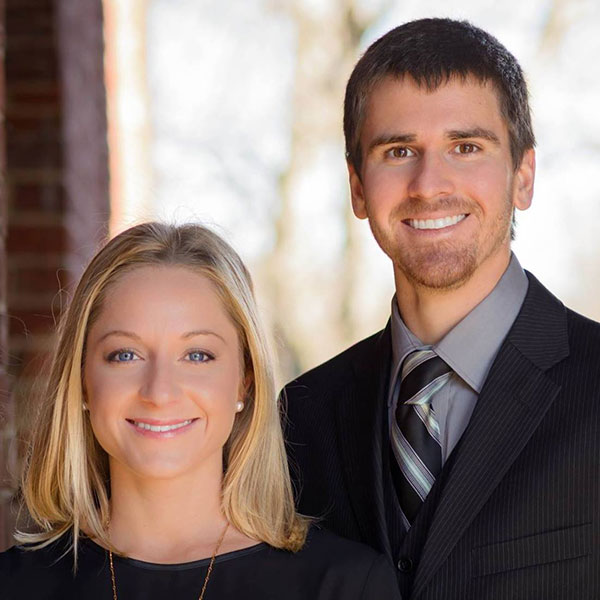 Drs. Logan and Laura Swaim

We are proud to bring you the story of Dr. Logan Swaim and Dr. Laura Swaim, who are located in Lakewood Ranch, FL! All of us in the AMPED community wish them the best of luck.
Q. What is your role at the practice?
A: Dr. Logan – Chiropractor, Networker (all things social ;))
Dr. Laura – Chiropractor, Office Manager (all things numbers ;))
Q. How long have you been open?

A: One year and 10 months.
Q. How many patients do you see per week?
A: 400
Q. What is your focus or specialty?
A: Torque Release Technique – Families, pediatrics and pregnancy.
Q. What would you like to tell us about your practice adventure?
A: Our practice adventure started while in school. We traveled through many states searching for the perfect spot for us to practice and raise a family. Once we moved to our town, we hit the ground running attending every networking event and knocking on doors while training a team at a local school during the day and preparing paperwork, office material and scheduling events at night. We passed all our office inspections the day before our ribbon cutting and our front desk construction was not even complete. We are forever thankful to AMPED students who helped us prep our office, gather material and serve the day of our ribbon cutting and first few weeks into practice. We opened with 150 new practice members and grew to 300 the end of the first year. There were a lot of unknowns but the best memories were those busy days serving together as husband and wife and not having to think what was happening next; the systems were in place – we just needed to serve. We have enjoyed the whole process – the ups, downs and the different seasons that brought different joys and challenges knowing we are providing a better quality of life by allowing innate to have full expression in our community.
Q. How has AMPED helped you?
A: AMPED has given us all the tools necessary to serve our community with excellence. There were a lot of unknowns, especially with opening, and AMPEDhelped us see what is possible for our business and personal lives.
Q. Do you have any advice for fellow AMPED members?
A: Plug into everything that AMPED has to offer. If you are 100% committed, you can get 100% results. Follow what works – do not try to re-invent the wheel. Ask questions – no matter how small the question may seem; others will benefit from it later on during that season in their life.
Q. What would you say to anyone considering joining AMPED?
A: Visit offices that are part of AMPED and ask questions. If nothing else, you WILL getthe principle of chiropractic. Do not be a skeptic – dive in. You will not regret it. AMPEDis a family and everyone helps everyone. Enjoy practicing knowing you have fellow AMPED members that are there to support your journey to uplift and encourage you and even help push you to limits you never knew possible.
Q. Where can people find you?
A: Facebook: https://www.facebook.com/chiropractorlakewoodranch/
Instagram: https://www.instagram.com/therootschiropractic/
Website: http://therootschiro.com/
AMPED Team Training
5 Essentials of Team Culture – September 2017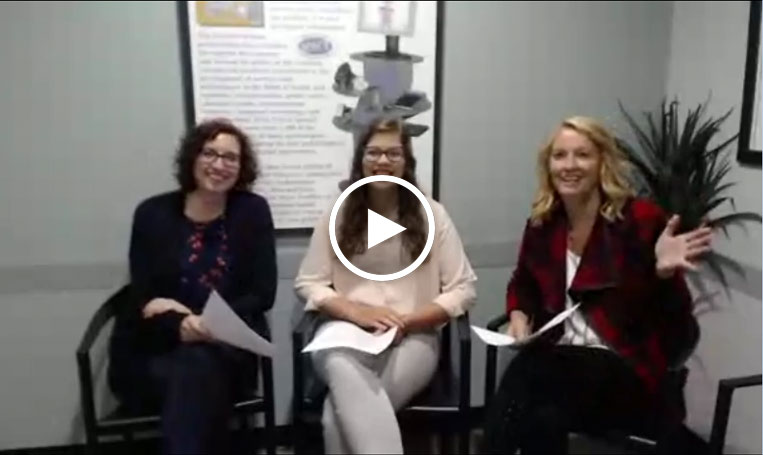 Watch the most recent team call on "5 Essentials of Team Culture".
Note: This featured video appears in certain AMPED programs. Depending on the program you are enrolled in, your content and the date it will change may differ.
Go to the AMPED Virtual Classroom at http://members.ampednow.com
AMPED Hangouts
Next AMPED Hangout: October 11

th, 2017
Each month we host exclusive program-specific AMPED mentorship calls.
The schedule for October 2017 is as follows:
AMPED

 Open Topic Hangout – 

Wed. Oct. 11th, 9:30pm

 Eastern
JumpStart Hangout – 

Wed. Oct. 11th, 10:45pm

 Eastern

AMPED

 Topic Specific Hangout, "Church Talks and Pastors' Luncheon" – 

Wed. Oct. 25th, 9:30pm

 Eastern
KickStart Hangout – 

Wed. Oct. 25th, 10:45pm

 Eastern
If your account level includes AMPED Hangouts, please watch for reminder emails the week of the Hangouts.
Go to the AMPED Virtual Classroom at http://members.ampednow.com
AMPED Member Discounts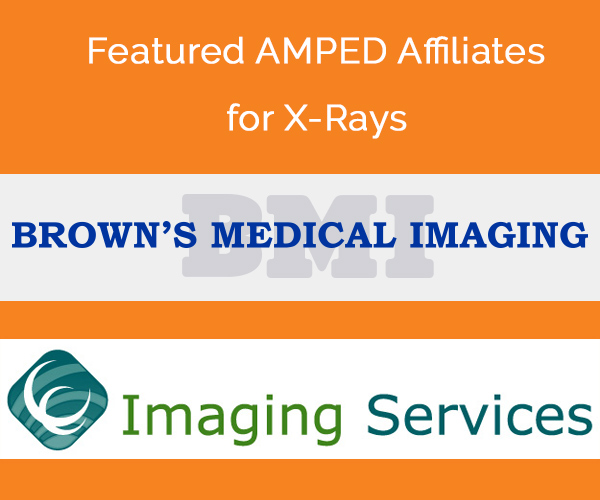 This issue, we are highlighting our X-Ray equipment providers. Be sure to give them a call when you are selecting your equipment and supplies.
Brown's Medical Imaging – You will work with Tim Jones who has 42 years of experience with tables and radiology equipment in the chiropractic community. BMI has been a part of over 70 installations for AMPED.
Highlights include:
Virtually no down time with any of their customers.
Spare inventory on hand in case of equipment failure.
Only source for reasonable rate, 100% guaranteed lease approval without co-signer with option of no down payment regardless of credit status.
Special 

AMPED

 discounts.
Contact Tim Jones at tjones@brownsmedicalimaging.com or call him at 913-522-3453. Visit the website at http://brownsmedicalimaging.com.
Imaging Services, Inc. – Your contact is Michael Tokash, President. Yes, as an AMPED member, you'll deal only with the President/Owner of the company and receive special service.
When you purchase from Imaging Services, you get everything in a special bundle:
Discount of $2,500 on all digital systems with stitching software upgrade at no additional cost and 

23

" upgrade also at no additional cost.
Discount of $1,000 on all x-ray systems.
Additional manufacturer promotional rebates, when received, will be passed on to 

AMPED

 members.
Call Michael Tokash on his cell at 610-812-3079 or email imaging-services@hotmail.com. Visit the website at http://www.theimagingservices.com.
---
Visit http://ampednow.com/shop to see other exclusive members-only discounts with AMPED affiliates.
Savings are available on valuable services for your practice such as:
Insurance
Billing Services
Compliance Consulting
Marketing
and Much More!!
Members should also check out the past AMPED Virtual Classroom Modules as well as "AMPED Specials" (Promotional Items and Practice Builders for AMPED Doctors).
Minute Mindset
Featured Video: "Spouse Congruency"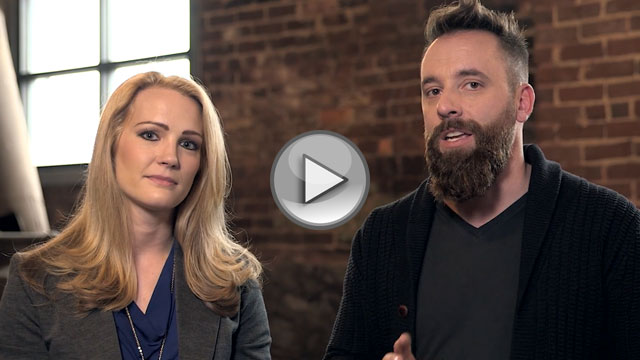 Check out our "AMPED Minute Mindset" series of videos on our YouTube channel!
Dr. Michael Viscarelli and Dr. Jessica Harden join forces in this video to talk about what do to when your spouse has a career outside of chiropractic. Learn how to get a spouse fully on board with chiropractic with the specific examples that are discussed. Together, you and your spouse can make a truly incredible team whether you both actually work in the practice or not.
Get AMPED Now
AMPED Memberships Now Available

AMPED (Advanced Mentorship Program for Entrepreneurial Development) is the ultimate hands-on, completely-proven, mentorship and development program for chiropractors. Learn more about the details of each program:
---
AMPED is proud to support these fine organizations