Issue 21 of "Get AMPED", the AMPED Newsletter, is now available!
---
August 1, 2017 Get AMPED – Issue 21

AMPED Rocks the Chiropractic Community with the AMPED Team Conference!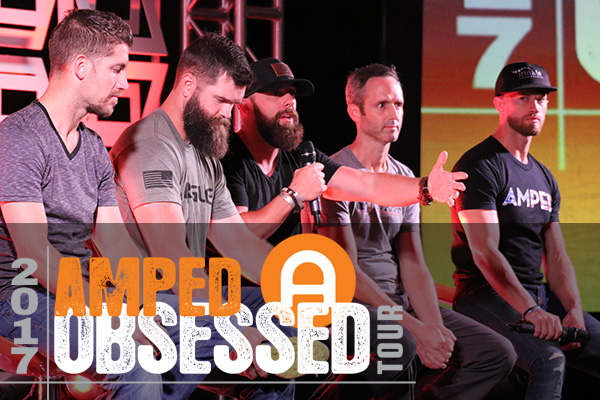 Dear AMPED Community,
We are humbled by your attention and the energy you bring to our live events. Our Team Conference in Atlanta this past weekend was attended by over 900 of you!
Your dedication to the mission of bringing chiropractic to the world is inspiring to see and we feel honored by being allowed to fan the flames of your burning passion.
We heard so many of your success stories, and they're very motivating and uplifting. Keep on grinding! Keep getting AMPED!!
Special thanks to our members, vendors, guests, friends and support staff. Your participation is treasured. Thank you from the bottom of our hearts.
We can't wait to see everyone at the AMPED Family Conference in October. It will be in the Orlando area, so be sure to bring all the kids!
Click here for details and registration.
Warmly,
Drs. Michael Viscarelli, Jeremy Hess, Jacob Sims, Erik Brower and Erik Kowalke
Your AMPED Leaders
---
Time-Limited Event Special Offers
This is your reminder to take advantage of the Event Discounts. If you don't yet own the Pediatric Program, get in now at this low rate at http://ampednow.com/pediatrics.
To add Past Modules to your AMPED classroom, please visit http://ampednow.com/past-modules.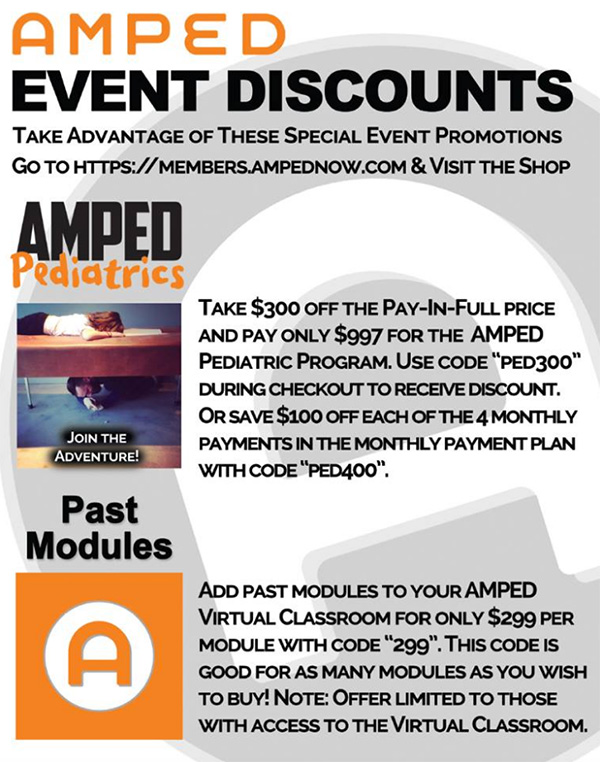 This Month's Module
Creating Culture – August 2017


You are in for a treat with this module on Creating Culture. Dr. Erik Kowalke and Dr. Tyler Schwanz, long-time colleagues and friends, discuss this topic often. They both take it very seriously and check in on what each other are doing to foster the right culture for their practices. Watch these valuable videos as they share their gems!
Video 1: Creating Culture Throughout Your Community
Video 2: Culture Within Your Practice
Video 3: Front Office Culture
Video 4: Back Office Culture
Video 5: Adjusting Room Culture
Plus downloadable documents
And, of course, be sure to watch for the bonus videos that appear mid-month.
Note: This featured module appears in certain AMPED programs. Depending on the program you are enrolled in, your content and the date it will change may differ.
Go to the AMPED Virtual Classroom at http://members.ampednow.com
AMPED Member Focus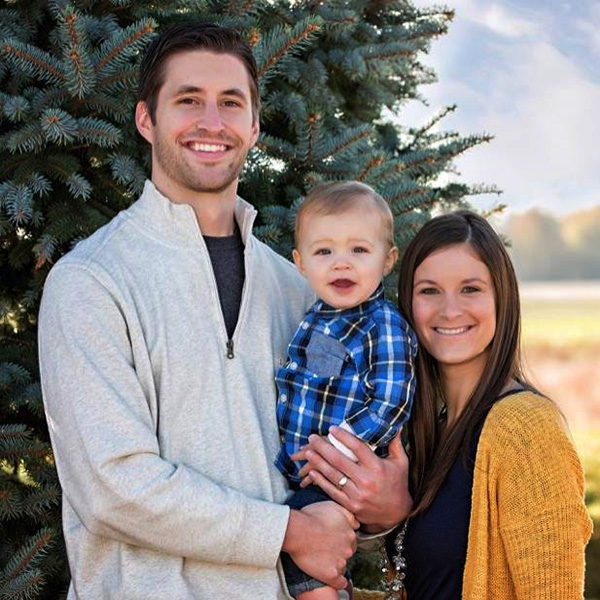 Dr. Nate and Sabrina DeJong – Highest Health Chiropractic

We are proud to bring you the story of Dr. Nate and Sabrina DeJong, who are located in Sioux Falls, SD! All of us in the AMPED community wish them the best of luck.
Q. What is your role at the practice?
A: Nate – Doctor
Sabrina – Office Manager/CA
Jagger – Assistant
Q. How long have you been open?

A: 8 months
Q. How many patients do you see per week?
A: 400
Q. What is your focus or specialty?
A: We specialize in neurologically based chiropractic corrective care using Torque Release Technique. We especially focus on pediatric and pregnancy care.
Q. What would you like to tell us about your practice adventure?
A: It has been quite an adventure so far. It all started back in school. The first time we were introduced to AMPED, Dr. Nate was in 5th tri and fully set on returning back to his hometown and associating. LAUNCH at Palmer Davenport changed all that. Shortly following that LAUNCH, Dr. Nate traveled and witnessed the offices of Dr. Viscarelli, Dr. Sims, and Dr. Kowalke. We were all-in after that.
Through school we were able to get tons of experience helping multiple offices through screenings, opening weeks, and precepting. Having the opportunity to gain those experiences really prepared us to open our own practice. It gave us confidence to know that we could in fact do it on our own, because we were able to help other offices grow!
We feel so blessed to have been able to open our office not only as a couple, but as a family. We have had our son, Jagger, by our side the entire time through our pre-opening networking, right through our opening week and now still, going into our 9th month in practice. To grow a practice from 0-400 visits per week in 8 months is a lot of work, and we are so thankful we get to do it as a family! Thank you AMPED for giving us the opportunity to do so!
Q. How has AMPED helped you?
A: AMPED gave us the tools, experience, and guidance to accomplish everything that we have. None of it would have been possible without AMPED. We are incredibly grateful for what AMPED has done for our practice and family.
Q. Do you have any advice for fellow AMPED members?
A: Stay engaged. It is easy to become complacent and settle for where you are. Staying engaged will keep you motivated and keep you learning so you can continue to grow your practice and help more people.
Q. What would you say to anyone considering joining AMPED?
A: Go check out offices. The only way you know if it is the right fit for you is to see it in action. Once that happens, don't sit on the fence and jump all in!
Q. Where can people find you?
A: Facebook:  https://www.facebook.com/chiropractorsiouxfallssd
Website:  http://highesthealthchiropractic.com
AMPED Team Training
Rescheduling Practice Members for Office Closings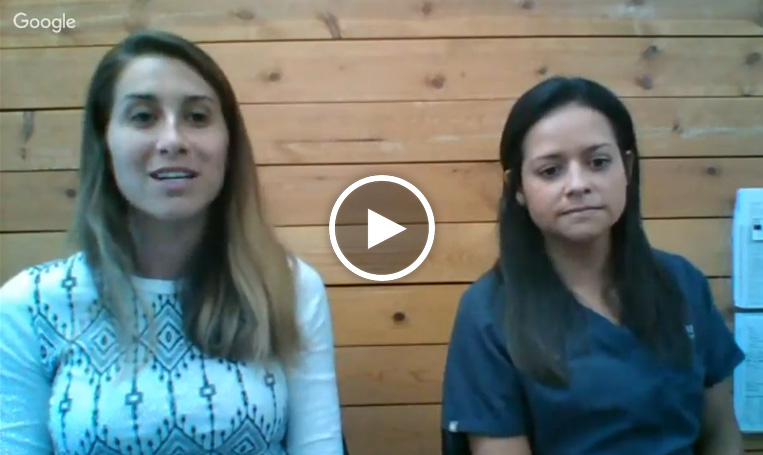 Watch the most recent team call with Dana Brower on "Rescheduling Practice Members for Office Closings".
Note: This featured video appears in certain AMPED programs. Depending on the program you are enrolled in, your content and the date it will change may differ.
Go to the AMPED Virtual Classroom at http://members.ampednow.com
AMPED Hangouts
Next AMPED Hangout: August 9

th, 2017
Each month we host exclusive program-specific AMPED mentorship calls using Google Hangout.
The schedule for August 2017 is as follows:
AMPED Open Topic Hangout – 

Wed. Aug. 9th, 9:30pm

 Eastern
JumpStart Hangout – 

Wed. Aug. 9th, 10:45pm

 Eastern
AMPED Topic Specific Hangout, "Creating Culture" – 

Wed. Aug. 23rd, 9:30pm

Eastern
KickStart Hangout – 

Wed. Aug. 23rd, 10:45pm

 Eastern
If your account level includes AMPED Hangouts, please watch for reminder emails the week of the Hangouts.
Go to the AMPED Virtual Classroom at http://members.ampednow.com
AMPED Member Discounts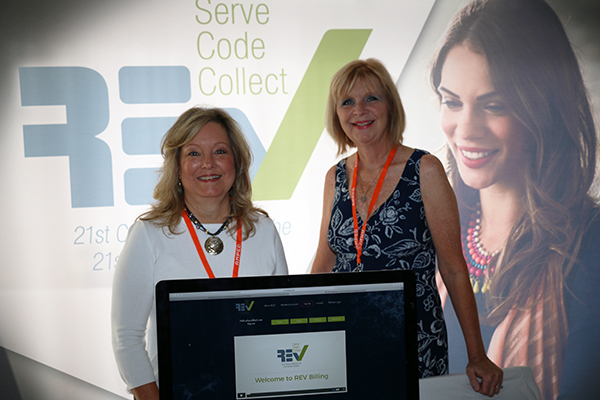 REV Billing is a unique billing service solution for modern chiropractic practices. Membership benefits include complete staff training videos that teach your team members about health insurance verification, insurance benefits, ledgers, pre-authorization and more. REV offers unique levels of service suitable for practice start-ups (you don't start paying service fees until you start billing insurance) and established practices.
Charter memberships available. Visit https://www.revbilling.com to watch a video about their services.
---
Visit http://ampednow.com/shop to see other exclusive members-only discounts with AMPED affiliates.
Savings are available on valuable services for your practice such as:
Insurance
Billing Services
Compliance Consulting
Marketing
and Much More!!
Members should also check out the past AMPED Virtual Classroom Modules as well as "AMPED Specials" (Promotional Items and Practice Builders for AMPED Doctors).
Minute Mindset
Featured Video: "Raising Up Leaders"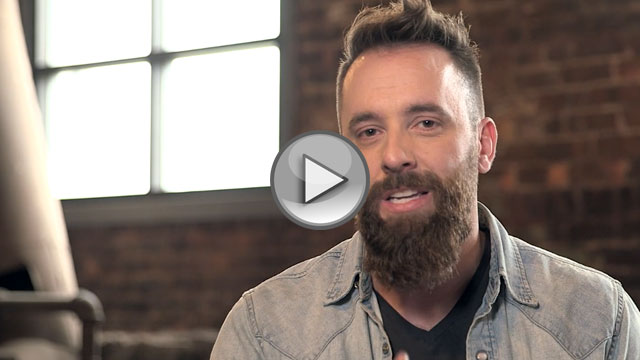 Check out our "AMPED Minute Mindset" series of videos on our YouTube channel!
Dr. Michael Viscarelli has a huge focus on raising up leaders. It's a long-time passion of his and he encourages you to adopt it for yourself as well. Watch this video to see why he believes this to be a mission we should all share..
Get AMPED Now
AMPED Memberships Now Available

AMPED (Advanced Mentorship Program for Entrepreneurial Development) is the ultimate hands-on, completely-proven, mentorship and development program for chiropractors. Learn more about the details of each program:
---
AMPED is proud to support these fine organizations