Issue 20 of "Get AMPED", the AMPED Newsletter, is now available!
---
July 3, 2017 Get AMPED – Issue 20

Getting Ready for the Atlanta Team Conference on July 28-30?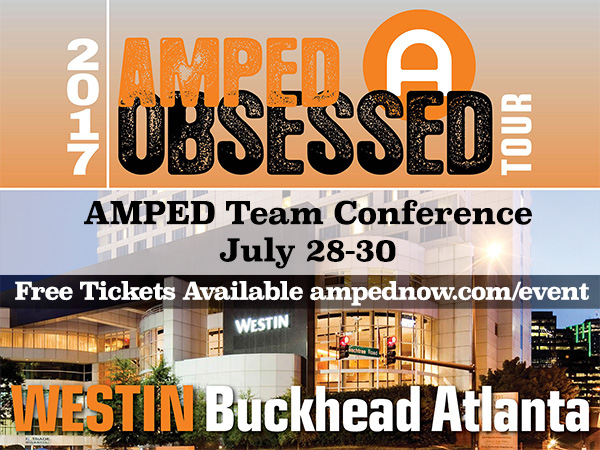 It's time to take care of the details for you and your team to join us in the beautiful Buckhead area of Atlanta on July 28th-30th for the AMPED Team Conference.
Some tips for you to maximize the experience:
Bring as many team members, family members and colleagues as possible. Make it a team building event for your practice!
Attend the special Luncheon with your team members. It's an important addition that will benefit your entire team.
Female chiropractors and students should attend the FLIGHT session. See http://ampednow.com/flight.
You won't want to miss this conference. It will be the best one yet.
Info and registration at http://ampednow.com/event.
REMINDER – Register now and you'll be automatically entered into a sweepstakes for registration prizes.
This Month's Module
Networking Groups and Professionals – July 2017


Dr. Michael Viscarelli and his team member Kalleigh lead the charge this month in this important module on building relationships that really last. They cover networking and your professional development in depth and offer many best practice shares that show you how to achieve the rapport that is so critical to success. Take plenty of notes!
Video 1: The Power of Great Relationships
Video 2: Networking Circuit
Video 3: Be the Professional
Video 4: Seal the Deal
Video 5: Finishing is Winning
And, of course, be sure to watch for the bonus videos that appear mid-month.
Note: This featured module appears in certain AMPED programs. Depending on the program you are enrolled in, your content and the date it will change may differ.
Go to the AMPED Virtual Classroom at http://members.ampednow.com
AMPED Member Focus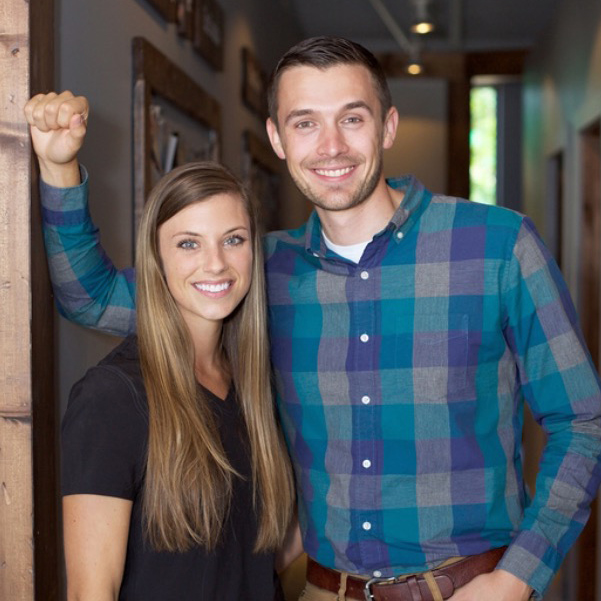 Dr. Taylor and Leah Sirois – Restoration Chiropractic

We are proud to bring you the story of Dr. Taylor and Leah Sirois, who are located in Columbia, MO! All of us in the AMPED community wish them the best of luck.
Please note that this interview is from April, 2017. 
Q. What is your role at the practice?
A: Dr. Taylor – Chiropractor
Leah – Office Manager
Q. How long have you been open?

A: 7 months
Q. How many patients do you see per week?
A: 410
Q. What is your focus or specialty?
A: Torque Release Technique – We want to focus on seeing families, pediatrics and pregnant moms.
Q. What would you like to tell us about your practice adventure?
A: Our first seven months in practice have been the most stressful but rewarding time in our lives. First of all, it has been rewarding for us in our personal relationship. We have grown so close taking on this endeavor with each other and being able to build this dream together. It has also been rewarding to see how we are already impacting our community with principled chiropractic care. We are reaching people who may have never stepped foot in a chiropractic office, but are now seeing their bodies healed and their lives changed.
Having grown up in a family of chiropractors, Dr. Taylor has seen a variety of styles and ways to practice. He always knew he wanted to open his own office to serve people with chiropractic care, but never really grasped the full potential of what that could look like until he was introduced to AMPED. Since opening, we have seen rapid growth in our office and we know that is due to the mentorship with AMPED and through building a solid team that is fully committed to our mission. We couldn't be more grateful to AMPED for the guidance and preparation it has given us to see our vision become a reality.
Q. How has AMPED helped you?
A: AMPED has helped us avoid so many errors, mistakes, and just the "figuring things out" stage of a new business, because it gives you the exact steps to take in the process. It has given Dr. Taylor the tools to serve so many people in his community, which has always been his vision! It has helped Leah make a huge career change and prepared her to manage and run an office and to educate people about chiropractic care.
Q. Do you have any advice for fellow AMPED members?
A: Dive all in and put in the time to learn it correctly. If you only participate halfway, you will get halfway results and may end up saying "this isn't for me". If you do it right, that thought will never cross your mind.
Q. What would you say to anyone considering joining AMPED?
A: Unless you know exactly, down to the detail, how you want to run your practice, then there is no "considering" about it. You will have no regrets about joining AMPED because it will guide you in how to run a successful practice from the very beginning. You are able to learn from other's mistakes and hit the ground running because they teach you how to avoid the common pitfalls most practices see in the beginning.
Q. Where can people find you?
A: Facebook:  https://www.facebook.com/ChiroRestoration
Website:  http://chirorestoration.com
AMPED Team Training
Integrating a New Team Member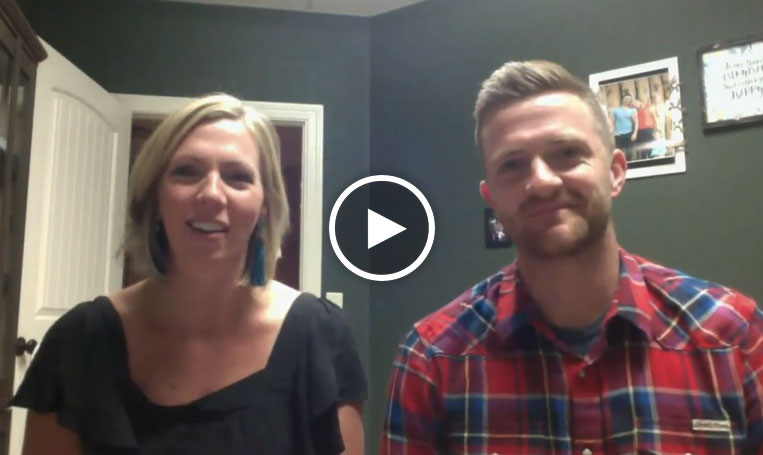 Watch the most recent team call with Drs. Sam and Clare Stewart on the topic of "Integrating a New Team Member".
Note: This featured video appears in certain AMPED programs. Depending on the program you are enrolled in, your content and the date it will change may differ.
Go to the AMPED Virtual Classroom at http://members.ampednow.com
AMPED Hangouts
Next AMPED Hangout: July 12

th, 2017
Each month we host exclusive program-specific AMPED mentorship calls using Google Hangout.
The schedule for July 2017 is as follows:
AMPED Open Topic Hangout – Wed. July 12th, 9:30pm Eastern
JumpStart Hangout – Wed. July 12th, 10:45pm Eastern
AMPED Topic Specific Hangout, "Networking Groups and Professionals" – Wed. July 26th, 9:30pm Eastern
KickStart Hangout – Wed. July 26th, 10:45pm Eastern
If your account level includes AMPED Hangouts, please watch for reminder emails the week of the Hangouts.
Go to the AMPED Virtual Classroom at http://members.ampednow.com
AMPED Member Discounts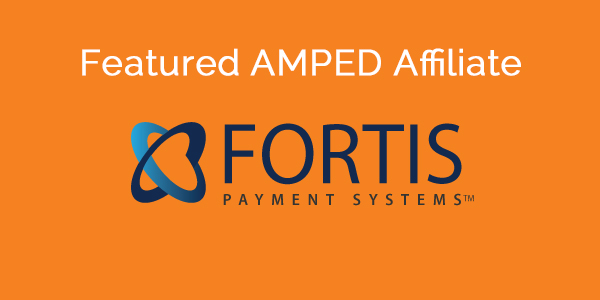 Special mention this month to our Featured Affiliate, Fortis Payments Systems. At Fortis, they realize the power of a team when it comes to your success. They wanted to contribute towards that, so they chose to be a Luncheon Sponsor during our July AMPED Team Conference. Thanks, Fortis!
AMPED recommends Fortis as the company to handle your credit card processing needs.
Check out these video demos:
Fortis – Platinum Demo One Time Payments
Fortis Demo – Add, Edit & Auto Collection of Recurring Payments
And get answers to these credit card processing FAQs:
Sick of confusing credit card transaction fees?
Need the chip card myth explained for chiropractors?
Are you still manually running & posting your credit card payments?
For answers about any of these, email amped@fortispay.com and ask for the AMPED special offer.
---
Visit http://ampednow.com/shop to see other exclusive members-only discounts with AMPED affiliates.
Savings are available on valuable services for your practice such as:
Insurance
Billing Services
Compliance Consulting
Marketing
and Much More!!
Members should also check out the past AMPED Virtual Classroom Modules as well as "AMPED Specials" (Promotional Items and Practice Builders for AMPED Doctors).
Minute Mindset
Featured Video: "Our Vision"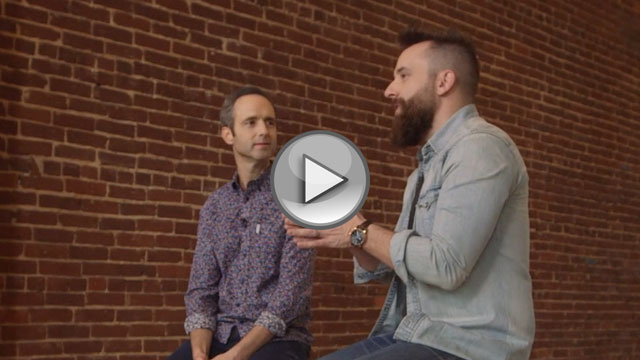 Check out our "AMPED Minute Mindset" series of videos on our YouTube channel!
Listen to Dr. Michael Viscarelli and Dr. Jeremy Hess explain the AMPED vision. Whether you are brand new to AMPED or have been enjoying and championing this movement in chiropractic for years, take a look at the message that drives everything we do.
Get AMPED Now
AMPED Memberships Now Available

AMPED (Advanced Mentorship Program for Entrepreneurial Development) is the ultimate hands-on, completely-proven, mentorship and development program for chiropractors. Learn more about the details of each program:
---
AMPED is proud to support these fine organizations